Edinburgh International College (EIC)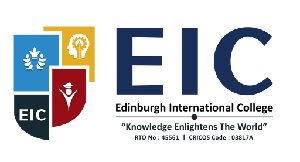 Edinburgh International College (EIC)
Call Us: +44 (0) 208 1333 905
WhatsApp: +44 (0) 7939983493
The Edinburgh International College (EIC) is an associate college of Edinburgh Napier University, which was founded in 2010. Located in Napier University buildings near Bruntsfield, Edinburgh, the college provided international students with pathway programs that enabled them to graduate with full degrees from Edinburgh Napier University. The college was operated by Navitas. 
Currently, EIC offers a variety of degree-level and pre-Masters programs to international students, including Accounting and Finance, Business, Tourism, and Computer Science. More subjects will be added in 2011. EIC students have access to university facilities, such as computer labs, libraries and the Students Union, 24/7. A maximum of 35 students will be in each class, and additional English language support is available if required.At EIC, you can find routes to Edinburgh Napier University's Bachelor of Arts and Bachelor of Science degrees. The first year of college is typically spent at EIC, whose curriculum is tailored to that of the student's eventual university of choice.
You will spend your time on campus with EIC, but your classrooms will be far smaller than those in your first year of traditional university programs. To ensure your academic success in the UK, you will receive the individualized attention and assistance you require. There are over 3,500 international students enrolled at Edinburgh Napier University; if you choose to study at EIC, you will have an even better chance of becoming one of the 95.4% of Edinburgh Napier University's graduates who were either employed or enrolled in graduate school within six months of receiving their diploma.
Many other options for fulfilling your educational goals are available through EIC. Their students also have access to a wide variety of Edinburgh Napier University resources as an Associate College, such as:
Labs where computers can be used in class

High-quality book collections

Student Government of Napier University
With the help of EIC's specialized support team, they guarantee that each and every student receives top-notch instruction and is well-prepared for the rest of their college careers.
College rules are grounded in the provider's (Navitas UK) and the university's (University of) quality assurance systems, policies, and procedures, as required by the Quality Code. The VLE serves as a central repository for all such policies, accessible to all employees. Subjects like engineering take into account the standards set by the appropriate professional organization. The Subject Benchmark Statements are also used by the faculty to guide their lesson plans. The institution has a quality improvement plan in place that spans three years and actively promotes progress. Staff members who met with the review team provided details on efforts made to elevate students' voices in accordance with the Quality Code's requirements.
A student forum will be created, and the College will begin publishing a newsletter every month. The College has been quite active in the Navitas network when it comes to sharing best practices. The College supports its employees' pursuit of further education and keeps track of their progress in this area.
Why the Edinburgh International College (EIC)
The combined offer letter (joint CAS) refers to a single visa application.

Lecturers are able to give you more personal attention when class sizes are smaller.

A state-of-the-art university campus is located near the center of town, making it an excellent location for studying.

Graduate employment rates are very high and there are many career options available.
An Offer of Admission for the Whole Journey — The EIC will provide you with an Offer of Admission that covers your whole pathway, from your First Year Degree (equivalent) to your Graduation from Edinburgh Napier University.EIC has a pliable admissions policy, accepting students at three different times a year. This gives you the freedom to begin your studies whenever works best for you.
Edinburgh Napier University resources – From your first day at EIC, you will have access to Edinburgh Napier University resources, including state-of-the-art classrooms, libraries, and computer labs, which are available around the clock, seven days a week. Additionally, you will get access to the services offered by the Students' Association and be able to participate in any events that the Association hosts.
Through its utilization of small classes and targeted attention for each student, EIC promotes a personalized and encouraging approach to learning. They cap our class sizes at 35 people, and their professors are always available before, during, and after class to help anyone who might need it.
Good monetary value – The courses are reasonably priced relative to the market, so you may expect to acquire an education that is both affordable and beneficial.
Upon satisfying the requirements for normal progression to the next level of study, you are guaranteed to progress promptly. This ensures that you will graduate from high school.
Accommodation choices — The helpful staff here can point you in the direction of the accommodation that best suits your requirements. There is a vast range of hotel options in Edinburgh for travelers of all budgets and needs.
Student support services are available around the clock, seven days a week to help students with any issues they may have, whether they be academic or personal.
Services for International Students
The Edinburgh Napier University EIC pathway provides excellent access to Undergraduate degree programs for international students. You can apply for EIC if you are considering studying a university degree in the UK, but are concerned about how you will cope in a UK university environment. While you are studying at the university, you will be in smaller classes than you would in your first year in a mainstream university program. 
As a result, you'll receive extra support and care that will ensure your success. With over 3,500 international students attending Edinburgh Napier University, you will have a better chance of joining the 93% of graduates who found jobs or further studies within six months of graduation by studying at EIC.
A prominent system of university rankings, including the Guardian University Rankings, the Times Good University Guide, and the Complete University Guide, has consistently ranked Edinburgh International College (EIC) higher and higher. 
This year, the university achieved 64th place on the Guardian University Rankings.
At Edinburgh International College(EIC), you will have access to the university's facilities and services from day one, including modern, well-equipped teaching facilities, libraries, and computer labs available 24/7. Additionally, you can take part in Student Association activities and benefit from its services.
There is a wide range of accommodation in Edinburgh to suit every budget and need. Their expert staff can help you find the ideal accommodation for your needs.
The EIC Campus in Broadmeadows offers a number of parking spaces including 12 designated and 30 casual spaces, as well as easy access to public transportation.Mobile apps and web browsers can be used by students to plan their journeys using the PTV Journey Planner.Campus facilities include spacious classrooms, modern equipment, a student rejuvenation area, showers, and lush green gardens.
A large number of former Edinburgh International College (EIC) students have gone on to work for some of the world's most reputable corporations after graduating from the university. In six months after completing Edinburgh Napier's degree, more than 93 percent of graduates find a job or continue their education.
Additionally, the university has excellent facilities and an innovative teaching approach enabling you to prepare for a successful career in today's global environment with practical, relevant courses.
Campus & Location
Interested in our services or need advice? Then please get in touch and we'll be glad to help.
Address: Edinburgh International College (EIC), Craiglockhart campus, Glenlockhart Road, Edinburgh EH14 1DJ, UK
You Must Know
Interested in our services or need advice? Then please get in touch and we'll be glad to help.
Graduate Diploma:
Degrees from Bangladesh or equivalent qualification equivalent to a UK Higher National Diploma (HND) in a relevant subject area and a minimum overall grade point average (GPA) of 2.3 on a 4.0 scale

The minimum IELTS score is 5.5 (with a minimum of 5.5 in each of the skills)
Other English requirements:
There are three-semester options available: 1, 2, or 3 semesters (with a minimum of 4.0 in any skill).

A minimum of 5.0 in any skill (with a minimum of 5.0 in any skill).

The English plus pathway is available for 10 weeks or 6 weeks.
Edinburgh International College (EIC)offer a wide range of courses at a competitive price, so you can earn a high-quality education that will give you maximum value for your money.
Tuition fees for undergraduate programs are as follows:     
£11,300
The tuition fee for master's courses:       £11,410 to £14,130
Pre-Sessional English

6 Week

£1,240

12 Week

£2,950

47 Week

£7,850
Edinburgh International College (EIC) offers scholarships and financial aid to international students at the undergraduate and graduate levels. Scholarships are awarded based on academic achievement or financial need.
What You Like To Study
Interested in our services or need advice? Then please get in touch and we'll be glad to help.
 BA (Hons) Business Management

 BA (Hons) Business Management with Accounting

 BA (Hons) Business Management with Economics

 BA (Hons) Business Management with Entrepreneurship

 BA (Hons) Business Management with Festivals and Events

 BA (Hons) Business Management with Finance, BA (Hons) Business Management with Financial Services

 BA (Hons) Business Management with Human Resource Management

 BA (Hons) Business Management with Marketing

 BA (Hons) Business Studies

 BA (Hons) Business Studies with Finance

 BA (Hons) Business Studies with Human Resource Management

 BA (Hons) Business Studies with Marketing, BA (Hons) International Business   Management

 BA (Hons) Marketing Management

 BA (Hons) Marketing Management with Consumer Studies

 BA (Hons) Marketing Management with Entrepreneurship

 BEng (Hons) Computer Security and Forensics

 BEng (Hons) Computer Systems Networks

 BEng (Hons) Software Engineering

 BEng (Hons) Computing, BSc (Hons) Computing

 BSc (Hons) Informational Technology Management

 BEng (Hons) Electronic and Electrical Engineering

 BEng (Hons) Electrical Engineering

 BEng (Hons) Electronic Engineering

 BEng (Hons) Energy and Environmental Engineering

 BEng (Hons) Engineering with Management

 BEng (Hons) Mechanical Engineering

 BEng (Hons) Mechatronics

 BSc (Hons) Biological Sciences

 BSc (Hons) Environmental Biology

 BSc (Hons) Marine and Freshwater Biology

 BSc (Hons) Microbiology and Biotechnology

 BSc (Hons) Animal Biology

 BSc (Hons) Biomedical Sciences

 BA (Hons) Festival and Event and Marketing Managemen

 BA (Hons) Festival and Event and Tourism Management

 BA (Hons) Festival and Event Management

 BA (Hons) Festival and Event Management with Entrepreneurship

 BA (Hons) Festival and Event with Human Resource Management

 BA (Hons) Tourism and Marketing Management

 BA (Hons) Tourism Management
MSc Finance & Corporate Strategy

MSc International Finance

MSc Accounting & Finance

MA Film

MSc Business Management

MSc Business Management with Entrepreneurship

MSc Business Management with HRM

MSc Business Management with Marketing

MSc Marketing

MSc Human Resource Management (International)

MSc International Business Management

MSc International Marketing

MSc International Marketing with Tourism & Events

MSc Marketing with Festival & Event Management

MBA

MSc Heritage & Cultural Tourism Management

MSc International Event & Festival Management

MSc International Tourism Management

MSc Tourism & Hospitality Management

MSc Tourism Marketing